A Beauty Industry Evolution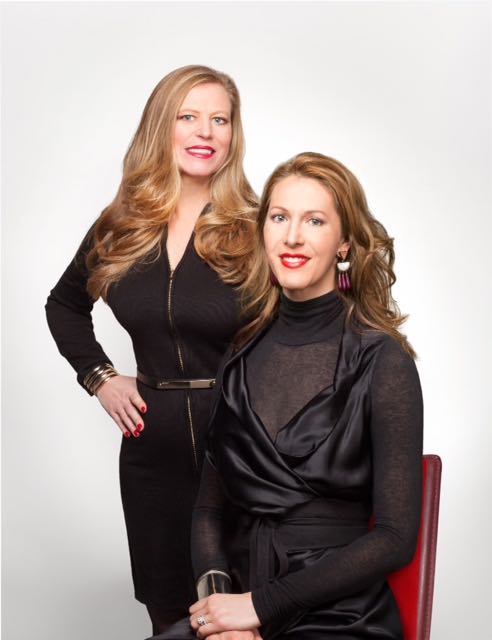 Our female founders this week have a passion for style and health. Nadine and Sandra have created a beauty line, NU Evolution, that gives women access to cosmetics that do not contain harmful ingredients. Their products are natural and organic but still inspired by high fashion and pop culture. NU Evolution represents the idea that the products used to enhance your beauty shouldn't negatively affect your health. These ambitious women travel the world and use their experiences as inspiration to create their beautiful cosmetic lines. Their experience and advice are truly inspiring. Check it out below! 1.) Tell us about your company.
We are two executive women who bring the same level of drive and passion to our careers as we do to living holistic lifestyles. As beauty junkies and style-obsessed women, we've always been drawn to the latest products and trends on the market. We are just as committed to living healthy lives and are very conscious about what we consume and apply on our skin.
What sets us apart as a natural and organic brand is our affiliation with the Fashion Industry and having the inside track of what is hot and what's not.
Through the process of developing the branding architecture, we solidified our mission statement; "Beauty without Toxicity, Style with Real Substance" to reflect the true essence of what NU EVOLUTION is all about. Once the mission statement was defined, our tagline was born...FOR THE BEAUTY JUNKIE WITHOUT THE JUNK®
2.) What/who inspired you to start your company?
Us! Having come from careers that covered all facets both in the Luxury Fashion & Financial industries, we were intrigued by the opportunities in the cosmetic industry due to the major gap between top beauty brands vs. the natural brands.
As busy women who lead hectic lives, we were also inspired to find products that were not only effective but reflective of our taste and personal style. We became frustrated with the lack of healthy yet stylish options, and know that there is nothing beautiful about the toxic ingredients in most products on the market. There were limited options for women who follow trends and have an elevated aesthetic, but also live a holistic lifestyle and are seeking products that meet both spectrums.
All those elements combined was the prime inspiration and driving force behind our need to create NU EVOLUTION.  We believe that you can look fabulous, without putting your health at risk.
Not willing to settle for anything less than what we expect from other brands, we set out to create a natural and organic based cosmetic brand, with a color selection, innovative formulas, and packaging that reflects our true passion for high fashion, beauty and pop culture from around the world.
3.) Tell us a story/incident that happened while starting or running your company that may have made you feel defeated. Now tell us how you overcame that.
Shortly after we launched our business, we learned very quickly that it was going to be tough to find a display manufacturer that would be willing to work with such small quantities. Most manufacturers we encountered had minimums that were well above 50- 100 units or more which was beyond our threshold as a new business. We basically smiled, dialed and called upon everyone we knew in our network to find a solution! Finally, after months of searching, a fashion designer that we knew introduced us to a manufacturer that was willing to work within our parameters and off we were! While it was a grueling process, we never gave up and kept persevering. Persistence and taking 'NO" for an answer did not stop us!
4.) Have you had any unique challenges as a woman in business?
Sandra: Having worked in the financial industry for my entire career which was dominated primarily by men when I started in the Commodities business, women were scarce, to say the least. Every day I had to go on the trading floor and equated the experience to a lion's den or better yet, a locker room. There was a reason hardly any women wanted to be in that environment because of the harassment and inappropriate language used to intimidate them. As hard as it was to endure that type of behavior, in the end, it made me stronger and the person I am today!
5.) What is your biggest fear with your company and how do you overcome it?
What keeps us up at night is how fast the competitive landscape is growing in the green beauty community. Because of the extensive business expertise that we bring to the table, it keeps us very focused on our core business strategy in order to achieve our short and long-term goals. Having thorough market analysis and the proper tools in place to implement our objectives is key to being successful. "Keep your eye on the prize" as they say is instrumental because it is easy to get distracted and to become reactive instead of proactive!
6.) Please share your best piece of advice for aspiring female founders.
If you are passionate about something and have a dream, we say GO FOR IT! Don't let fear or anyone hold you back! If you believe in yourself, you can do anything you set your mind to! Prior to launching, do your research and immerse yourself in the industry by going to related events and learn as much as you can! Network, network and do more networking! We can't stress enough the power and importance of knowledge that comes from people so don't be afraid to make connections.
7.) What are your goals with the company?
We believe in the power of education and bringing it to the forefront of who we are as a brand. It's not just about selling products! We are taking a proactive role to share information because it is our fiduciary responsibility as humans! We don't just walk the walk; we talk the talk when it comes to holistic and conscious living. All it takes is one person to share information and empower the person next to you! Think of the great impact we would achieve overall if everyone embodied this philosophy! Sharing is caring, and we are fully committed to the cause!
THIS FRIDAY ON INSTAGRAM, KEEP AN EYE OUT FOR OUR FEMALE FOUNDERS GIVEAWAY! YOU CAN WIN SOME SWEET STUFF FROM BOTH NU EVOLUTION AND TOO PRETTY. SEE YOU THEN!